Collaborating Across Disciplines
March 04, 2023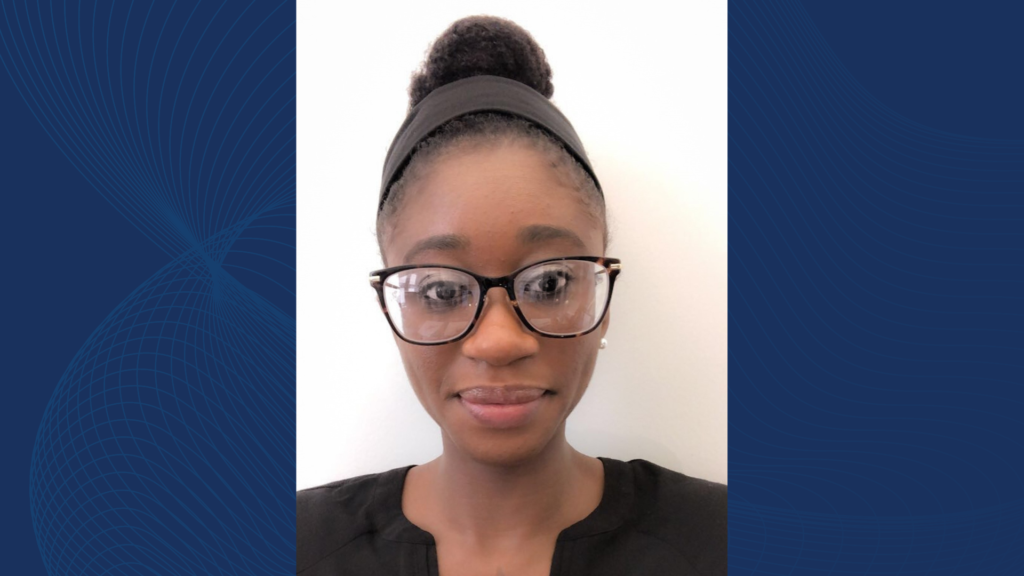 In her research on liquid crystal fluid, Jed-Joan Edziah is discovering the power of diverse perspectives.
Jed-Joan Edziah came to Penn Engineering with the goal of continuing her undergraduate research on batteries and renewable energy technologies. But then she made an important personal connection with a professor in a different field—and pivoted to a completely different line of inquiry.
Today, as a Ph.D. student in chemical and biomolecular engineering, she's working with researchers in multiple departments to learn more about liquid crystals and what they can do.
Here, Edziah talks about the value of interdisciplinary collaboration and how she ended up at Penn.
What got you interested in pursuing a Ph.D. in chemical and biomolecular engineering?
I've always liked research, even when I was in high school. I've always liked math and science too, so a Ph.D. was the natural progression of my interests. What I like about chemical engineering research is that it's very broad. It gives me breathing room and a lot of options.
How did you choose Penn for your Ph.D.?
People kept telling me, "I have a friend who went to Penn, and they loved it." Everyone said it has a great vibe and that everyone here is collaborative and friendly. And that's what I needed, because I didn't want to go to a cutthroat school where I would have to hide my experiments to keep people from sabotaging them or be super stressed about managing work and life.
How did you get involved in the research you're doing?
Before Penn, I was not at all interested in the research area I'm in. I was doing battery research, and I wanted to continue doing something related to that work. But when I came to Penn, I met my advisor. We chatted for 30 minutes, and I came away thinking, "I have no idea what she does, but she's cool. I want to be part of it."
What's your research all about?
We're trying to use some of the fundamental understanding we have about the physics of liquid crystals to build new-generation optical devices and optical elements. We're going from the micro-scale idea to a fully functional device, so it's been a great experience.
How did the project get started?
My project came out of fundamental work our group did on using liquid crystal fluid and boundaries adjacent to this medium to control the position of particles.
My co-advisors, one in chemical engineering and the other in electrical systems engineering, realized that this work could have a lot of value to the ESE department in their work on placing particles in locations as a mechanism to manipulate electromagnetic waves and the full spectrum of light.
So a couple of their students drew out a vision for how we could use our system as a platform for these electromagnetic devices. And then it was my job to make it a reality.
It sounds like a very interdisciplinary approach.
It is, and that's why I'm co-advised. We're bringing together two seemingly unrelated things, so I needed mentorship from both angles. Before I started here, a lot of people told me that the work at Penn is highly interdisciplinary. Now that I'm here, I understand what they meant.
What's the value of interdisciplinarity?
Without collaboration, we would not have understood the capacity of our system in terms of its application. We needed someone to step in and say, "What you've got there is great. Did you know you can use it for X, Y and Z?" That was the beautiful thing about it.
Once you step into someone else's world, you discover a ton of things that you don't know. And that lends itself to better ideas.
How have you made connections on campus?
My research group is my primary source of community. Older students mentor younger students, and there's an understanding that someone will help you navigate your research and lab work.
I also signed up for our department's mentorship program. My mentee, who's also a woman of color, ended up joining my research group, which was really nice. I also do informal mentoring, especially for students of color, because sometimes they can get lost.
What advice do you have for prospective students?
When I started grad school, I had a couple of friends who were already in Ph.D. programs at other schools, and they were having a hard time. The advice that I got from them, and from everyone else, was to pick my advisor wisely. And that's what I did. I chose my advisor not because of her research but because of her character and her research group. And that has led to the community and the sense of well-being that I have.